G Type Single Screw Spindle Pump
Generally speaking, it is common used pump. The speed can be low and high. The pressure can be increased with the pump grades. With one grade increases, the pressure can be increased by 0.6Mpa. Therefore, it is widely used for environmental protection, ship, petro industry, pharmacy, food, brewing, construction, printing and paper making industries.
This pump has less components, small tight structure and easy repairing. The rotor and stator are the easy break components. They are easy to dispatch for repairing.
installation size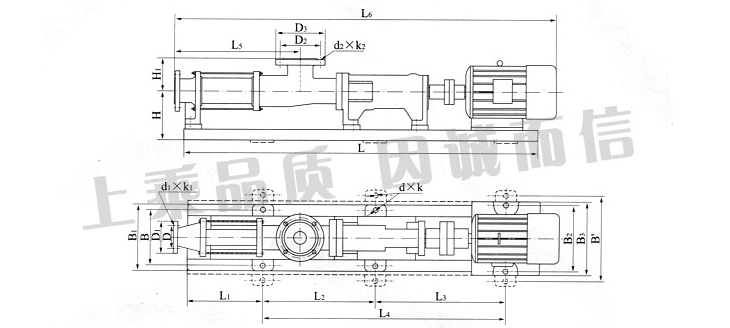 installation size and dimension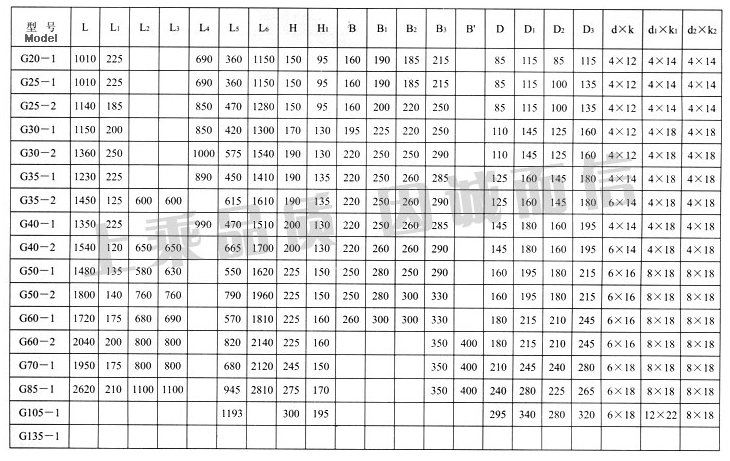 Performance Parameters
Model
Flow
(M3/ H)
Pressure
(Mpa)
Allows the most
High Speed
(R / min)
Motor
Power
(Kw)
Necessary steam
Margin erosion
(M)

Import method
Blue Path
(Mm)

Export Law
Blue Path
(Mm)
Allow satellites
Particle diameter
(Mm)
Allow fiber
Dimensional length
(Mm)
G20-1
0.8
0.6
960
0.75
4
25
25
1.5
25
G20-2
1.2
1.5
G25-1
2
0.6
960
1.5
40
32
2
30
G25-2
1.2
2.2
G30-1
5
0.6
960
2.2
50
40
2.5
35
G30-2
1.2
3
G35-1
8
0.6
960
3
65
50
3
40
G35-2
1.2
4
G40-1
12
0.6
960
4
80
65
3.8
45
G40-2
1.2
5.5
G50-1
14
0.6
720
5.5
4.5
100
80
5
50
G50-2
1.2
7.5
G60-1
22
0.6
720
11
5
125
100
6
60
G60-2
1.2
15
G70-1
38
0.6
720
11
150
125
8
70
G70-2
1.2
18.5
G85-1
56
0.6
630
15
150
150
10
80
G85-2
1.2
30
G105-1
100
0.6
500
30
200
200
15
110
G105-2
1.2
55
G135-1
150
0.6
400
45
250
250
20
150
G135-2
1.2
90

Single-stage, the gear shift, electromagnetic speed or continuously variable speed motor plus gear plus gear variable speed motor performance parameters when
Model
Pressure 0.3Mpa
Pressure 0.6Mpa
Adjustable Speed
Rpm
(R / min)
Flow
(M3/ H)
Electric motor
Power
(Kw)
Rpm
(R / min)
Flow
(M3/ H)
Electric motor
Power
(Kw)
Rpm
(R / min)
Flow
(M3/ H)
Electric motor
Power
(Kw)
G20-1
960
0.96
0.75-6 class
960
0.8
0.75-6 class
125 ~ 1250
0.1 ~ 1.5
1.1
720
0.8
0.55-8 class
720
0.5
0.75-8 class
510
0.4
0.55-4 level / gear box
510
0.3
0.75-4 level / gear box
G25-1
960
2.4
0.75-6 class
960
2
1.5-6 class
125 ~ 1250
0.1 ~ 3
1.5
720
1.5
0.55-8 class
720
1.27
1.1-8 class
510
1.08
0.55-4 level / gear box
510
0.9
1.1-4 level / gear box
G30-1
960
3.6
1.5-6 class
960
3
2.2-6 class
125 ~ 1250
0.2 ~ 4
2.2
720
2.28
1.1-8 class
720
1.9
1.5-8 class
510
1.63
1.1-4 level / gear box
510
1.35
1.5-4 level / gear box
G35-1
720
4.8
2.2-8 class
720
4.04
Grade 3-8
125 ~ 890
0.3 ~ 5
3
510
3.36
1.5-4 level / gear box
510
2.8
2.2-4 level / gear box
380
1.92
1.1-4 level / gear box
380
1.60
1.5-4 level / gear box
G40-1
510
6.8
2.2-4 level / gear box
510
5.6
3-4 level / gear box
125 ~ 890
0.3 ~ 10
4
380
5.1
1.5-4 level / gear box
380
4
2.2-4 level / gear box
252
2.65
1.1-6 level / gear box
252
2.2
1.5-6 level / gear box
G50-1
510
13.8
4-4 level / gear box
510
11.5
5.5-4 level / gear box
80 ~ 750
1 ~ 18
5.5
380
10.2
4-4 level / gear box
380
7.5
5.5-4 level / gear box
252
5.6
3-6 level / gear box
252
4.4
5.5-6 level / gear box
G60-1
510
20.8
7.5-4 level / gear box
510
16
11-4 level / gear box
63 ~ 630
1 to 20
11
380
15.6
7.5-4 level / gear box
380
12
11-4 level / gear box
252
7.8
5.5-6 level / gear box
252
6
7.5-6 level / gear box
G70-1
510
26
11-4 level / gear box
510
20
11-4 level / gear box
56 ~ 560
1 ~ 22
11
380
17
7.5-4 level / gear box
380
13
11-4 level / gear box
252
9.1
7.5-6 level / gear box
252
7
7.5-6 level / gear box
G85-1
380
32
11-4 level / gear box
380
25
15-4 level / gear box
37 ~ 370
2 ~ 24
15
252
21
7.5-6 level / gear box
252
16
11-6 level / gear box
189
11
5.5-8 level / gear box
189
8
11-8 level / gear box
G105-1
380
80
15-4 level / gear box
380
65
22-4 level / gear box
29 ~ 290
3 ~ 50
22
252
44
15-6 level / gear box
252
34
22-6 level / gear box
189
29
11-8 level / gear box
189
22
15-8 level / gear box
G135-1
380
132
37-4 level / gear box
380
120
45-4 level / gear box
18 ~ 180
3 ~ 56
45
252
95
30-6 level / gear box
252
80
37-6 level / gear box
189
65
18.5-6 level / gear box
189
53
30-8 level / gear box

Two-stage, the gear shift, electromagnetic speed or continuously variable speed motor plus gear plus gear variable speed motor performance parameters when
Model
Pressure 0.8Mpa
Pressure 1.2Mpa
Adjustable Speed
Rpm
(R / min)
Flow
(M3/ H)
Electric motor
Power
(Kw)
Rpm
(R / min)
Flow
(M3/ H)
Electric motor
Power
(Kw)
Rpm
(R / min)
Flow
(M3/ H)
Electric motor
Power
(Kw)
G20-2
960
0.96
1.5-6 class
960
0.8
1.5-6 class
125 ~ 1250
0.1 ~ 1.5
1.5
720
0.8
1.1-8 class
720
0.5
1.5-8 class
510
0.4
1.1-4 level / gear box
510
0.3
1.1-4 level / gear box
G25-2
960
2.4
1.5-6 class
960
2
2.2-6 class
125 ~ 1250
0.1 ~ 3
2.2
720
1.5
1.1-8 class
720
1.27
1.5-8 class
510
1.08
1.1-4 level / gear box
510
0.9
1.5-4 level / gear box
G30-2
960
3.6
Grade 3-6
960
3
Grade 3-6
125 ~ 1250
0.2 ~ 4
3
720
2.28
1.5-8 class
720
1.9
2.2-8 class
510
1.63
1.5-4 level / gear box
510
1.35
2.2-4 level / gear box
G35-2
720
4.8
Grade 3-8
720
4.04
Class 4-8
125 ~ 890
0.3 ~ 5
4
510
3.36
2.2-4 level / gear box
510
2.8
3-4 level / gear box
380
1.92
1.5-4 level / gear box
380
1.60
2.2-4 level / gear box
G40-2
510
6.8
4-4 level / gear box
510
5.6
5.5-4 level / gear box
125 ~ 890
0.3 ~ 10
5.5
380
5.1
3-4 level / gear box
380
4
4-4 level / gear box
252
2.65
2.2-6 level / gear box
252
2.2
3-6 level / gear box
G50-2
510
13.8
5.5-4 level / gear box
510
11.5
7.5-4 level / gear box
80 ~ 750
1 ~ 18
7.5
380
10.2
4-4 level / gear box
380
7.5
5.5-4 level / gear box
252
5.6
3-6 level / gear box
252
4.4
5.5-6 level / gear box
G60-2
510
20.8
15-4 level / gear box
510
16
15-4 level / gear box
63 ~ 630
1 to 20
15
380
15.6
11-4 level / gear box
380
12
15-4 level / gear box
252
7.8
7.5-6 level / gear box
252
6
11-6 level / gear box
G70-2
510
26
15-4 level / gear box
510
20
18.5-4 level / gear box
56 ~ 560
1 ~ 22
18.5
380
17
11-4 level / gear box
380
13
15-4 level / gear box
252
9.1
11-6 level / gear box
252
7
11-6 level / gear box
G85-2
380
32
18.5-4 level / gear box
380
25
22-4 level / gear box
37 ~ 370
2 ~ 24
22
252
21
15-6 level / gear box
252
16
18.5-6 level / gear box
189
11
15-8 level / gear box
189
8
15-8 level / gear box
G105-2
380
80
30-4 level / gear box
380
65
37-4 level / gear box
29 ~ 290
3 ~ 50
37
252
44
30-6 level / gear box
252
34
30-6 level / gear box
189
29
22-8 level / gear box
189
22
22-8 level / gear box
G135-2
380
132
55-4 level / gear box
380
120
75-4 level / gear box
18 ~ 180
3 ~ 56
75
252
95
55-6 level / gear box
252
80
75-6 level / gear box
189
65
37-8 level / gear box
189
53
45-8 level / gear box

Single, two-stage pump performance parameters of CWS work
Pump
Flow
(M3/ H)
Working pressure
(Mpa)
Rpm
(R / min)
Matching speed gear motor
(Kw)
G30-2
~ 1
1.2
30 ~ 300
YCT160/4A-2.2
G35-2
~ 2
1.2
30 ~ 300
YCT160/4A-2.2
G40-2
3
1.2
30 ~ 280
YCT160/4A-3
G50-1
4.5
0.6
28 ~ 280
YCT180/4A-4
G50-2
4.5
1.2
28 ~ 280
YCT200/4A-5.5
G60-1
~ 6.5
0.6
25 ~ 250
YCT200/4A-5.5
G60-2
~ 6.5
1.2
25 ~ 250
YCT200/4B-7.5
G70-1
8
0.6
25 ~ 250
YCT200/4B-7.5
G85-1
~ 12.5
0.6
18 ~ 180
YCT225/4A-11
G105-1
20
0.6
14 ~ 140
YCT225/4B-15
G135-1
35
0.6
10 ~ 100
YCT250/4B-22