IHF fluorine plastic lined centrifugal pump series
Product Overview
IHF type pump for single-stage single suction fluorine plastic alloy chemicalCentrifugal pumpIs based on national standard design and processing technology combined with non-metallic pumps designed and manufactured. The pump has a corrosion resistance, wear resistance, high temperature, aging, high mechanical strength, non-toxic decomposition temperature of wide use of the advantages. Poly pump with metal shell lined with FEP (F46), impeller and pump cover are metal inserts the overall sintering outsourcing fluorine plastic is extruded seal with externally mounted bellows mechanical seal.

Features
IHF fluorinePlastic centrifugal pumpThe pump is characterized by the structure of the advanced and reasonable, corrosion resistance strong, tight and reliable sealing performance, stable. Low noise and long service life. Transmission medium temperature is -85 ℃ ~ 200 ℃, flow :1.75-200m3 / h Head :4.5-87m speed 1450-2900r/min

Usage
The pump is widely used in chemical, pharmaceutical, petroleum, metallurgy, electricity, electroplating, acid, pesticide, paper and other industries in liquid transport, and processing acid wastewater treatment process. Delivery of any concentration of sulfuric acid, hydrochloric acid, nitric acid, acetic acid, hydrofluoric acid, aqua regia, alkali, strong oxidizer, organic solvent, the use of strong corrosive medium, is the most advanced equipment of corrosion-resistant.
installation size


installation size and dimension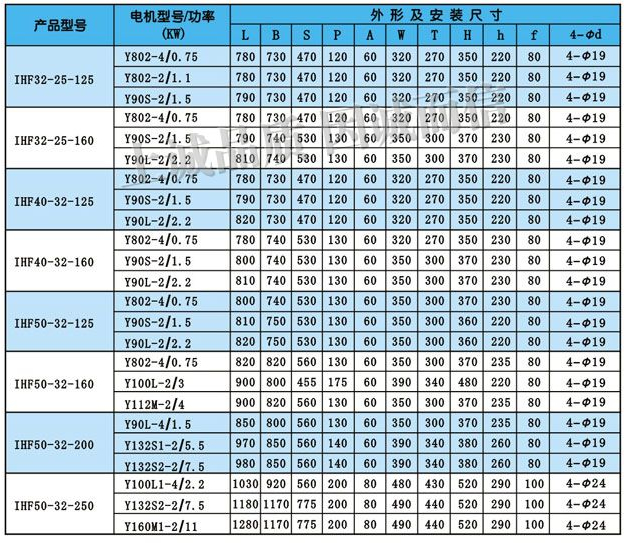 Performance Parameters
Model
Speed n = 2900 r / min
Speed n = 1450 r / min
Flow
(M3 / h)
Head
m
Motor Power
Kw
NPSH (m)
Efficiency (%)
Flow m3 / h
Head
m
Motor Power
Kw
NPSH (m)
Efficiency (%)
IHF50-32-125
12.5
20
2.2
3.0
51
6.3
5
0.55
3.0
45
IHF50-32-160
12.5
32
4
3.0
46
6.3
8
0.55
3.0
40
IHF50-32-200
12.5
50
7.5
3.0
39
6.3
12.5
1.1
3.0
33
IHF65-50-125
25
20
3
3.5
62
12.5
5
0.55
3.5
55
IHF65-50-160
25
32
5.5
3.5
57
12.5
8
1.1
3.5
51
IHF65-40-200
25
50
11
3.5
52
12.5
12.5
1.5
3.5
46
IHF65-40-250
25
80
18.5
3.5
50
12.5
20
3
3.5
43
IHF80-65-125
50
20
5.5
4.0
69
25
5
1.1
4.0
64
IHF80-65-160
50
32
11
4.0
67
25
8
1.5
4.0
62
IHF80-50-200
50
50
15
4.0
63
25
12.5
2.2
4.0
57
IHF80-50-250
50
80
30
4.0
66
25
20
5.5
4.0
51
IHF100-80-125
100
20
11
4.5
77
50
5
1.5
4.5
74
IHF100-80-160
100
32
15
4.5
73
50
8
2.2
4.5
69
IHF100-65-200
100
50
30
4.5
73
50
12.5
5.5
4.5
68
IHF125-80-160
160
32
30
5.0
70
80
8
5.5
5.0
74
IHF125-100-200
200
50
55
5.0
65
100
12.5
11
5.0
71