AFB/FB single suction pump
Product Overview
AFB, FB pump is a single-stage single-suction cantilever corrosionCentrifugal pump, The company learned the characteristics of 90 kinds of pumps, hydraulic model using advanced, novel structure and high Qiang Du combination double-end 机械 sealed with rubber energy efficient, compact structure, stable performance and reliable.

Features
The pumps are suitable for conveying corrosive liquids. Transported medium temperature -20 ℃ ~ 105 ℃, with double seal cooling can deliver around 300 ℃ high temperature medium. Widely used in petroleum, chemical, metallurgy, synthetic fibers, pharmaceutical, food, brewing and other industrial sectors, but also for industrial and mining enterprises and urban water supply, drainage purposes. (Pumps and flow components in contact transmission medium stainless steel 1Cr18Ni9Ti manufacturing).

Usage
Corrosive liquid without solid particles, acids, alkalis, alcohol, bleach, photography solution, nitric acid, hydrochloric acid, hydrofluoric acid, acetic acid, sodium hydroxide, acetone, 4 ethylene oxide, water, salt and so on.
installation size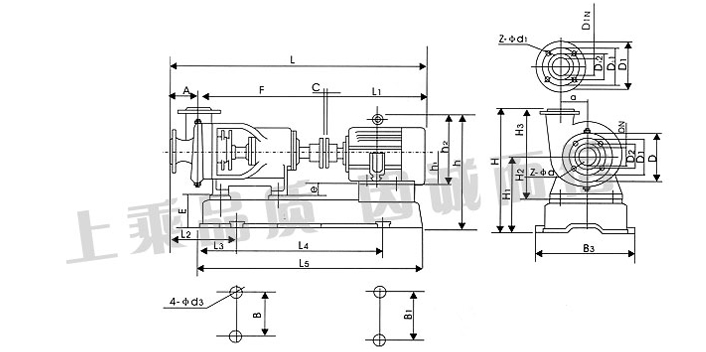 installation size and dimension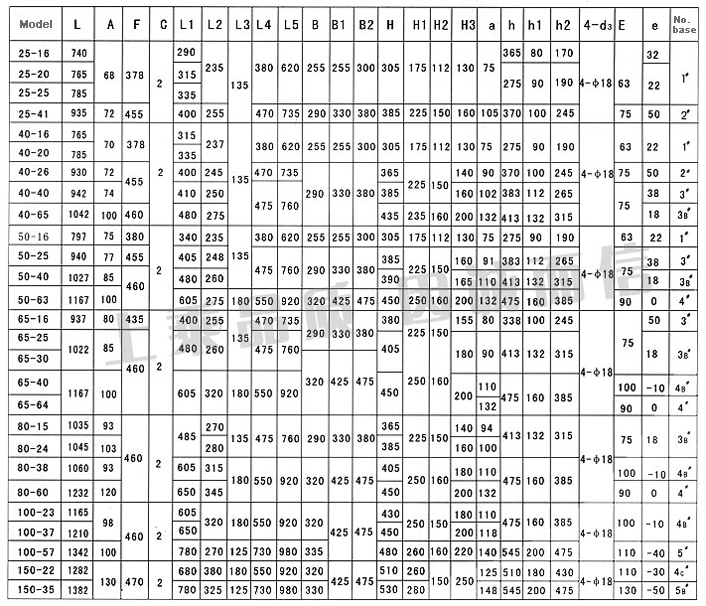 Performance Parameters
Model
Flow
Head
m
Speed
r / min
Efficiency
%
Shaft power
KW
Nominal power
KW
NPSH
m
m3 / h
L / S
25FB-16
3.6
1
16
2900
33
0.48
1.1
4.0
25FB-16A
3.27
0.91
12.5
2900
34
0.34
0.75
4.0
25FB-25
3.6
1
25
2900
30
0.82
1.5
4.0
25FB-25A
3.27
0.91
20
2900
31
0.57
1.1
4.0
25FB-40
3.6
1
40
2900
23
1.71
3
4.0
25FB-40A
3.27
0.91
33.5
2900
24
1.21
2.2
4.0
40FB-16
7.2
2
16
2900
44
0.71
1.5
4.0
40FB-16A
6.55
1.82
12
2900
46.7
0.5
1.1
4.0
40FB-20
7.2
2
20
2900
42
0.93
1.5
4.0
40FB-25
7.2
2
25
2900
39
1.26
2.2
4.0
40FB-25A
6.55
1.82
20.5
2900
40
0.94
1.5
4.0
40FB-40
7.2
2
40
2900
32
2.45
3
4.0
40FB-40A
6.55
1.82
32
2900
33.5
1.73
2.2
4.0
40FB-63
7.2
2
63
2900
27
5.42
7.5
4.0
40FB-63A
6.72
1.87
56
2900
29
3.75
5.5
4.0
50FB-16
14.4
4
16
2900
56
1.09
5.2
3.5
50FB-16A
13.1
3.64
12
2900
57
0.81
1.5
3.5
50FB-25
14.4
4
25
2900
52
1.83
4
3.5
50FB-25A
13.1
3.64
20
2900
51.5
1.42
3
3.5
50FB-40
14.4
4
40
2900
46
3.32
5.5
3.5
50FB-40A
13.1
3.64
32.5
2900
45
2.62
5.5
3.5
50FB-63
14.4
4
63
2900
39
6.16
11
3.5
50FB-63A
13.1
3.64
54.5
2900
38
5.24
7.5
3.5
65FB-25
2.88
8
25
2900
62
3.16
5.5
3.5
65FB-25A
26.2
7.28
20
2900
62
2.36
4
3.5
65FB-30
2.88
8
30
2900
60.5
3.89
7.5
3.5
65FB-30A
26.2
7.28
25
2900
61
2.79
5.5
3.5
65FB-40
2.88
8
40
2900
57.5
5.46
11.5
3.5
65FB-40A
26.2
7.28
32
2900
58
4
7.5
3.5
65FB-64
2.88
8
64
2900
52.5
9.57
15
3.5
65FB-64A
26.2
7.28
55
2900
51.5
7.82
7.5
3.5
80FB-15
54.4
15
15
2900
69
3.2
5.5
3.0
80FB-15A
49.1
13.65
11.5
2900
69
2.62
4
3.0
80FB-24
54.4
15
24
2900
68
5.19
7.5
3.0
80FB-24A
49.1
13.65
19
2900
68
3.94
7.5
3.0
80FB-38
54.4
15
38
2900
66.5
8.41
15
3.0
80FB-38A
49.1
13.65
30.5
2900
66.5
6.34
11
3.0
80FB-60
54.4
15
60
2900
62.8
14.06
22
3.0
80FB-60A
49.1
13.65
52
2900
62.5
11.56
18.5
3.0
100FB-23
100.8
28
23
2900
73
8.65
15
3.0
100FB-23A
91.8
25.5
17.5
2900
73
6.51
11
3.0
100FB-37
100.8
28
37
2900
73
13.9
22
3.0
100FB-37A
91.8
25.5
29
2900
70.5
11
18.5
3.0
100FB-57
100.8
28
57
2900
70.5
22.2
37
3.0
100FB-57A
91.8
26.2
52
2900
70.5
18.77
37
3.0
150FB-22
190.8
53
22
2900
77
14.86
22
2.5
150FB-22A
173.5
48.2
17.5
2900
78
10.6
18.5
2.5
150FB-35
190.8
53
35
2900
76
23.94
37
2.5
150FB-35A
173.5
48.2
28
2900
76
17.42
30
2.5
150FB-56
190.8
53
56
2900
76
38.3
55
2.5
150FB-56A
173.5
48.2
50
2900
76
32.1
37
2.5