YW High Efficiency No Block-up Sewage Pumps
Features
1. With pandemic Road, anti-clogging design of hydraulic components, greatly enhance the dirt capacity, effective diameter of 5 times through the pump fiber material and a diameter of about 50% of the pump diameter solid particles.
2. Designed, matching motor, high efficiency, energy saving effect is remarkable.
3. Mechanical seal is double tandem seal, made of hard wear-resistant tungsten carbide, a durable, wear, etc., can pump more than 8000 hours continuous operation safety.
4. Pump compact structure, small size, easy to move, easy to install and so on.
5. Can be equipped with liquid level automatically according to user needsControl cabinet, According to the required level change, automatic start and stop the pump without special person to care very convenient to use.
6. Pump for the vertical structure, immersed in the liquid when the pump which is easy to start, taking the time to exhaust the problem does not exist, but also has no leaks, etc., liquid depth of up to 0.5 to 7 meters.
7. Spindle advanced structure and reliable coupling connection with the pump and motor, shaft development of precise dimensions to ensure smooth operation of the pump, with sufficient safety factor.
8. In the context of using the lift operation of motor set, however.
9. Pump with a single pipe and double pipe installation to install two, supporting a disk and Fangpan An installation piece.
installation size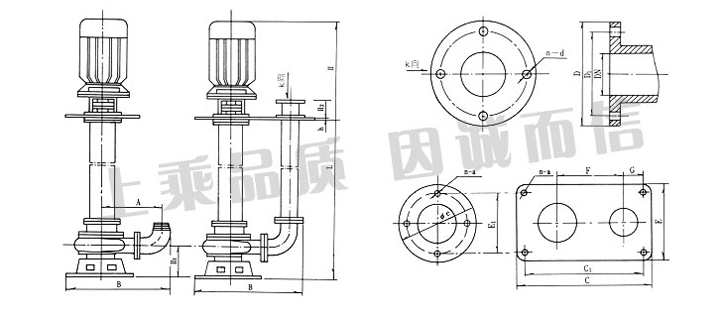 installation size and dimension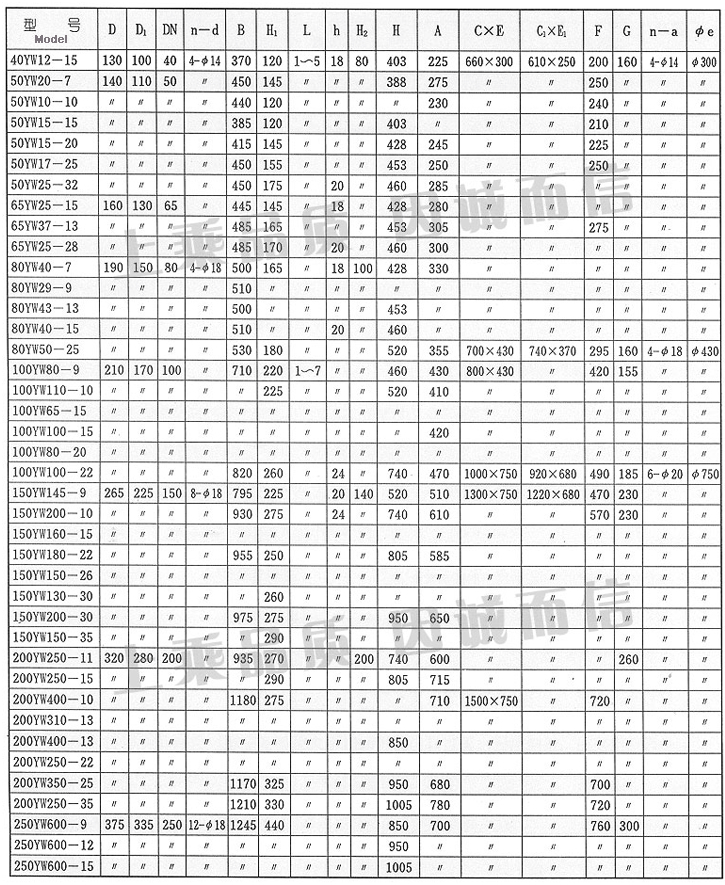 Performance Parameters
Model
Discharge bore
mm
Flow
m3/ H
Head
m
Speed
r / min
Power
KW
Efficiency
%
40YW12-15
40
12
15
2900
1.5
48
50YW20-7
50
20
7
1450
0.75
62
50YW10-10
〃
10
10
〃
0.75
54
50YW15-15
〃
15
15
2900
1.5
51
50YW15-20
〃
15
20
〃
2.2
51
50YW17-25
〃
17
25
〃
3
53
50YW25-32
〃
25
32
〃
5.5
49
65YW25-15
65
25
15
〃
2.2
52
65YW37-13
〃
37
13
〃
3
60
65YW25-28
〃
25
28
〃
4
58
80YW40-7
80
40
7
〃
2.2
50
80YW29-9
〃
29
9
〃
2.2
48
80YW43-13
〃
43
13
〃
3
65
80YW40-15
〃
40
15
〃
4
57
80YW50-25
〃
50
25
〃
7.5
56
100YW80-9
100
80
9
1450
4
62
100YW110-10
〃
110
10
〃
5.5
97
100YW65-15
〃
65
15
〃
5.5
59
100YW100-15
〃
100
15
〃
7.5
70
100YW80-20
〃
80
20
〃
7.5
71
100YW100-22
〃
100
22
〃
15
61
150YW145-9
150
145
9
〃
7.5
63
150YW200-10
〃
200
10
〃
15
64
150YW160-15
〃
160
15
〃
15
67
150YW180-22
〃
180
22
〃
18.5
74
150YW150-26
〃
150
26
〃
18.5
72
150YW130-30
〃
130
30
〃
22
69
150YW200-30
〃
200
30
〃
37
65
150YW150-35
〃
150
35
〃
37
63
200YW250-11
200
250
11
〃
15
72
200YW250-15
〃
250
15
〃
18.5
72
200YW400-10
〃
400
10
〃
22
75
200YW310-13
〃
310
13
〃
22
71
200YW400-13
〃
400
13
〃
30
76
200YW250-22
〃
250
22
〃
30
71
200YW350-25
〃
350
25
〃
37
73
200YW250-35
〃
〃
35
〃
45
69
250YW600-9
250
600
9
〃
30
78
250YW600-12
〃
600
12
〃
37
76
250YW600-15
〃
600
15
〃
45
73