AS-type tear Sewage Pumps
Product Overview
AS Series submersibleSewage pumpABS by Germany's advanced technology, especially suitable for handling with hard solid, liquid fiber, and especially dirty, sticky and slippery liquid. All pumps are fitted with AS splitting mechanism to split water in the long fiber, bags, belt, grass, cloth strips torn discharged. Therefore, the sewage will not be very reliable run blocking.

Features
An advanced technology, sewage capacity, no plug, effective diameter φ30-φ80 mm by solid particles.
2 torn bodies to the fibers tear, cut, and then the smooth emission, no need to add the filter pump.
3 designed, matching motor power, energy-saving effect is remarkable.
4 with the latest materials, mechanical seal, pump safety can run straight for more than 8000 hours.
5 compact, easy to move, easy to install, can reduce the project cost, construction of pump house no.
6 can be used within the scope of the whole head, but not of motor overload.
7-day float and the required water level can change, automatic start and stop the pump without special care.
8 pairs of rails automatically install the system, it gives installation and maintenance, a great convenience, may not be required to access the sump.
9 is equipped with automatic control box to protect the product leakage, water leakage and overload were effectively protected, improved product safety and reliability.
installation size


installation size and dimension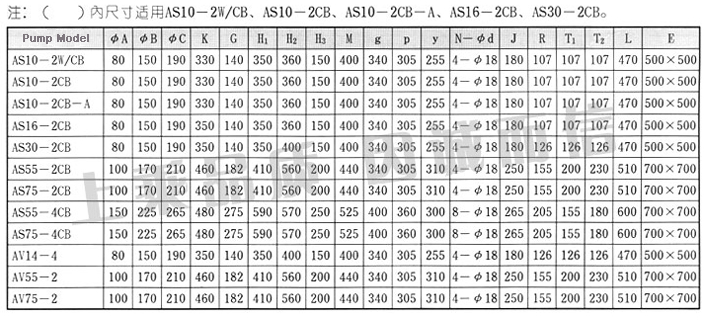 Performance Parameters
Model
Flow
m3/ H
Head
(M)
Power
(Kw)
Speed
(R / min)
Rated voltage
(V)
Equipped with a hose diameter
(Mm)
AS10-2W/CB
15
4
1.1
2850
220
76
AS10-2CB
15
4.5
1.1
2850
380
76
AS16-2CB
29
7.6
1.5
2850
380
76
AS30-2CB
42
11
3.0
2850
380
76
AS55-2CB
45
13
5.5
2900
380
127
AS55-4CB
100
7.5
5.5
1450
380
152
AS75-2CB
60
18
7.5
2900
380
127
AS75-4CB
145
10
7.5
1450
380
152
AV14-4
22
5.8
1.5
1450
380
76
AV55-2
30
20
5.5
2900
380
76
AV75-2
30
25
7.5
2900
380
76