GW pipeline efficient non-blocking sewage pump
Product Overview
GW efficient non-blocking pipelineSewage pumpThe vertical row of single-suction centrifugal pump single stage, centerline at the same level import and export, import and export of the same flange, so installation and removal is very convenient, small footprint, can be asValveInstalled in the pipeline, like any position. Direct coaxial pump and motor, an electromechanical integration products, compact structure, stable performance. Blocked by anti-pandemic Road, design of hydraulic components, greatly enhance the dirt capacity, effective diameter of 5 times through the pump fiber material and a diameter of about 50% of the pump diameter solid particles. Designed, matching motor and reasonable, high efficiency, energy saving effect is remarkable. Mechanical seals with hard wear-resistant tungsten carbide, a durable, wear, etc., can pump more than 8000 hours continuous operation safety. Hydraulic performance of advanced, machine efficiency, low noise operation. The motor fan side with protective cover, the whole can be put to work outdoors, without machine room, can save a lot of infrastructure costs. In the context of using the lift used to ensure the motor overload.

Structure Description
GW series without blocking single-stage pipeline pump system at the level of imports and exports, and the same size, vertical structure, small size, motor and pump coaxial, with the chassis to install, easy to install a solid, single impeller ( dual) flow, through the good performance.
installation size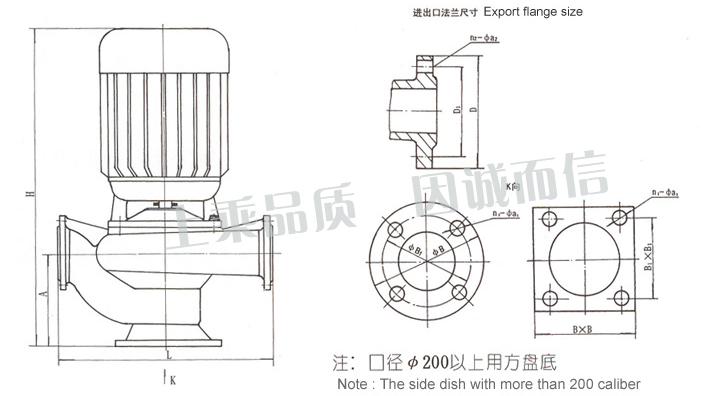 installation size and dimension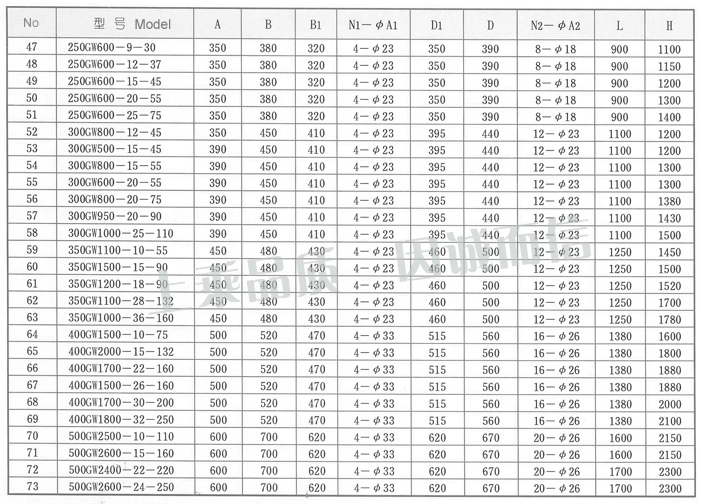 Performance Parameters
Model
Head
Specification
Flow
Nature
Power
(KW)
Speed
(R / min)
Voltage
(V)
Caliber
(Mm)
Flow
(M3 / h)
Head
(M)

25-8-22

25
8
22
1.1
2900
380

32-10-15

32
10
15
1.5
2900
〃

40-15-30

40
15
30
2.2
1900
〃

50-20-7

50
20
7
0.75
1450
〃

50-20-15

50
20
15
1.5
2900
〃

50-15-25

50
15
25
2.2
2900
〃

50-18-30

50
18
30
3
2900
〃

65-25-15

65
25
15
2.2
2900
〃

65-25-30

65
25
30
4
2900
〃

80-40-7

80
40
7
2.2
1450
〃

80-40-15

80
40
15
4
2900
〃

80-65-25

80
65
25
7.5
2900
〃

100-85-10

100
85
10
4
1450
〃

100-100-15

100
100
15
7.5
1450
〃

100-85-20

100
85
20
7.5
1450
〃

100-100-25

100
100
25
11
1450
〃

100-100-35

100
100
35
15
1450
〃

125-115-15

125
115
15
15
1450
〃

150-180-15

150
180
15
15
1450
〃

150-180-20

150
180
20
18.5
1450
〃

150-180-30

150
180
30
22
1450
〃

150-180-35

150
180
35
30
1450
〃

200-300-10

200
300
10
11
980
〃

200-300-15

200
300
15
22
1450
〃

200-300-20

200
300
20
30
1450
〃

200-300-25

200
300
25
37
1450
〃

250-600-10

250
600
10
30
980
〃

250-600-12

250
600
12
37
1450
〃

250-600-15

250
600
15
45
1450
〃

250-600-20

250
600
20
55
1450
〃

250-600-25

250
600
25
75
1450
〃

300-800-12

300
800
12
45
980
〃

300-480-15

300
480
15
45
1450
〃

300-600-20

300
600
20
55
1450
〃

300-800-20

300
800
20
20
1450
〃