GDL Vertical Multistage Pipeline Pump
Product Overview
GDL type multi-stagePipe centrifugal pumpsMy unit at home and abroad based on the best combination of pump-type of the user requirements and fire related standards and standards based design and manufacturing JB/TQ6435-92 new generation of products. Vertical structure of segmental external stainless steel shell, making import and export of pumps and at the same level as the same caliber, can asValveBeing installed in the pipeline as it also brings togetherMultistage PumpThe high-pressure, small footprint and vertical pumpPipeline PumpThe advantages of easy installation. With high efficiency, smooth running, etc, and seal with wear-resistant mechanical seal, no leakage and long service life.

Features
With high efficiency, stable etc., and seal with wear-resistant mechanical seals, temperature ≤ 100 ℃, working pressure ≤ 1.6MPa (16kg/cm3). Flow :5-300m3 / h speed 2900r/min head :5-250m

Usage
GDL-type pumps are suitable for high pressure operation systems transport water or physical and chemical properties of liquids, such as high-rise building water supply, boiler feed water, fire systems, transmitting or pressurization purposes. GDLF pump is made of stainless (ZG1Cr18Ni9Ti) material manufactured for chemical, food, brewing, pharmaceutical, textile and other industries. Can be customized based on user requests 304 or 316L stainless steel material.
installation size

installation size and dimension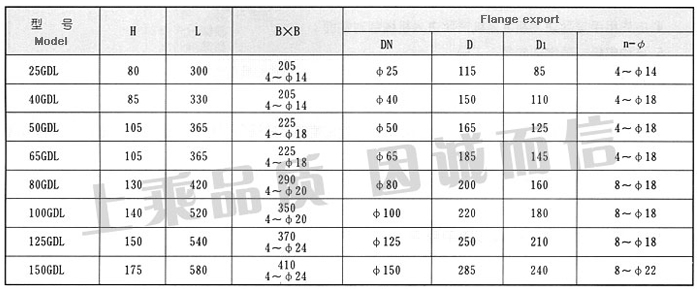 Performance Parameters
Model
Flow (m3/ H)
Head (m)
Suction (m)
Motor Power (kw)
25GDL2-12 × 3
2
36
7.5
1.1
25GDL2-12 × 4
48
1.1
25GDL2-12 × 5
60
1.5
25GDL2-12 × 6
72
1.5
25GDL2-12 × 7
84
2.2
25GDL2-12 × 8
96
2.2
25GDL2-12 × 9
108
2.2
25GDL2-12 × 10
120
3
25GDL2-12 × 11
132
3
25GDL2-12 × 12
144
3
25GDL4-11 × 3
4
33
1.1
25GDL4-11 × 4
44
1.5
25GDL4-11 × 5
55
2.2
25GDL4-11 × 6
66
2.2
25GDL4-11 × 7
77
3
25GDL4-11 × 8
88
3
25GDL4-11 × 9
99
3
25GDL4-11 × 10
110
4
25GDL4-11 × 11
121
4
25GDL4-11 × 12
132
4
25GDL4-11 × 13
143
4
40GDL6-12 × 3
6
36
1.5
40GDL6-12 × 4
48
2.2
40GDL6-12 × 5
60
2.2
40GDL6-12 × 6
72
3
40GDL6-12 × 7
84
3
40GDL6-12 × 8
96
4
40GDL6-12 × 9
108
4
40GDL6-12 × 10
120
4
40GDL6-12 × 11
132
5.5
40GDL6-12 × 12
144
5.5
50GDL12-15 × 2
12
30
7
2.2
50GDL12-15 × 3
45
3
50GDL12-15 × 4
60
4
50GDL12-15 × 5
75
5.5
50GDL12-15 × 6
90
5.5
50GDL12-15 × 7
105
7.5
50GDL12-15 × 8
120
75
50GDL12-15 × 9
135
11
50GDL12-15 × 10
150
11
50GDL18-15 × 3
18
45
4
50GDL18-15 × 4
60
5.5
50GDL18-15 × 5
75
7.5
50GDL18-15 × 6
90
7.5
50GDL18-15 × 7
105
11
50GDL18-15 × 8
120
11
50GDL18-15 × 9
135
15
50GDL18-15 × 10
150
15
65GDL24-12 × 2
24
24
6
3
65GDL24-12 × 3
36
4
65GDL24-12 × 4
48
5.5
65GDL24-12 × 5
60
7.5
65GDL24-12 × 6
72
7.5
6S5GDL24-12 × 7
84
11
65GDL24-12 × 8
96
11
65GDL24-12 × 9
108
15
65GDL24-12 × 10
120
15
80GDL36-12 × 2
36
24
5.5
4
80GDL36-12 × 3
36
5.5
80GDL36-12 × 4
48
7.5
80GDL36-12 × 5
60
11
80GDL36-12 × 6
72
11
80GDL36-12 × 7
84
15
80GDL36-12 × 8
96
15
80GDL36-12 × 9
108
18.5
80GDL36-12 × 10
120
18.5
80GDL54-14 × 2
54
28
5
7.5
80GDL54-14 × 3
42
11
80GDL54-14 × 4
56
15
80GDL54-14 × 5
70
18.5
80GDL54-14 × 6
84
18.5
80GDL54-14 × 7
98
22
100GDL72-14 × 2
72
28
4.5
11
100GDL72-14 × 3
42
15
100GDL72-14 × 4
56
18.5
100GDL72-14 × 5
70
22
100GDL72-14 × 6
84
30
100GDL72-14 × 7
98
30