GDLF vertical stainless steel multi-stage pump
Product Overview
CDL stainless steel multi-stage stampingCentrifugal pumpThe series is a cold drawn auto industry factory set and convex extrusion welding technology process as one of the three-dimensional pump, a pump using advanced technology made from Denmark, the series of hydraulic model of advanced, energy efficient. Pump with stainless steel internal leaf stamping, smooth flow, avoiding secondary pollution. seal with wear-resistant mechanical seal, no leakage. Motor Lead by Y2 shell, imported bearings, insulation class F class. the overall strength and parts interchangeability.

Features
All series are divided into 8 sizes,. CDLF vertical multistage stainless steel centrifugal pump is the pump running smoothly. Low noise, reliable machine quality, nice appearance, small size, light weight, run the easy installation, is an ideal green and environmental protection, energy savingPump. Flow 2-80m3 / h, the maximum outlet pressure 2.4Mpa, temperature -20 ℃ ~ 150 ℃

Usage
Apply to hot and cold clean, non-flammable, non-liquid solid particles or fibers, such as medicine, food, beverages, boiler feed water, environmental water treatment, pressurized water of life, industrial circulation systems and processing systems, media delivery .
installation size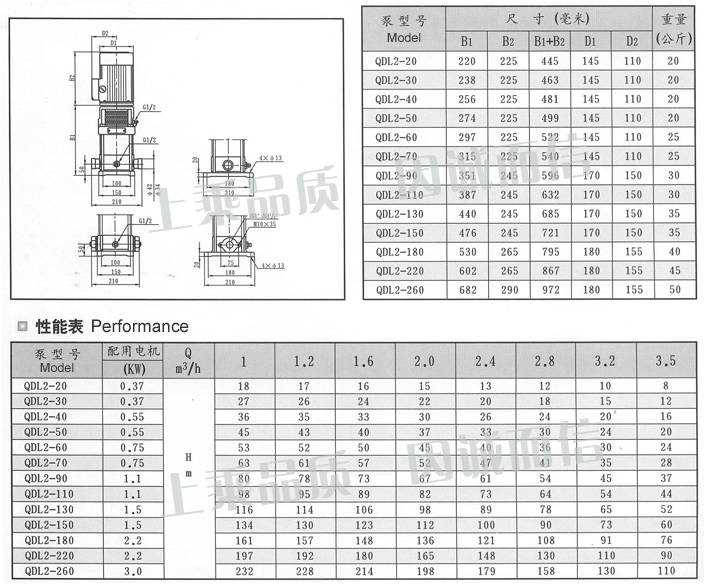 Performance Parameters
Model
Flow
Head
(M)
Efficiency
(%)
Speed
(R / min)
Power
(KW)
NPSH
(NPSH) r
Height
(Mm)
Weight
(Kg)
m3/ H
L / S
25QDLF2-20
2
0.56
15
46
2900
0.37
1.8
486
20
25QDLF2-30
2
0.56
22
46
2900
0.37
1.8
504
22.8
25QDLF2-40
2
0.56
30
46
2900
0.55
1.8
522
23.6
25QDLF2-50
2
0.56
37
46
2900
0.55
1.8
540
20
25QDLF2-60
2
0.56
45
46
2900
0.75
1.8
558
20
25QDLF2-70
2
0.56
52
46
2900
0.75
1.8
576
25
25QDLF2-80
2
0.56
60
46
2900
1.1
1.8
594
25
25QDLF2-90
2
0.56
67
46
2900
1.1
1.8
612
25
25QDLF2-100
2
0.56
75
46
2900
1.1
1.8
630
30
25QDLF2-110
2
0.56
82
46
2900
1.1
1.8
648
30
25QDLF2-120
2
0.56
90
46
2900
1.5
1.8
721
30
25QDLF2-130
2
0.56
97
46
2900
1.5
1.8
739
35
25QDLF2-140
2
0.56
105
46
2900
1.5
1.8
757
35
25QDLF2-150
2
0.56
112
46
2900
1.5
1.8
775
35
25QDLF2-160
2
0.56
120
46
2900
1.5
1.8
793
35
25QDLF2-170
2
0.56
127
46
2900
1.5
1.8
811
40
25QDLF2-180
2
0.56
135
46
2900
2.2
1.8
829
40
25QDLF2-190
2
0.56
142
46
2900
2.2
1.8
847
40
25QDLF2-200
2
0.56
150
46
2900
2.2
1.8
865
40
25QDLF2-210
2
0.56
157
46
2900
2.2
1.8
883
40
25QDLF2-220
2
0.56
165
46
2900
2.2
1.8
901
45
25QDLF2-230
2
0.56
172
46
2900
3
1.8
989
45
25QDLF2-240
2
0.56
180
46
2900
3
1.8
1007
45
25QDLF2-250
2
0.56
187
46
2900
3
1.8
1025
50
25QDLF2-260
2
0.56
195
46
2900
3
1.8
1043
50
32QDLF4-20
4
1.11
16
59
2900
0.37
1.8
501
20
32QDLF4-30
4
1.11
24
59
2900
0.55
1.8
528
20
32QDLF4-40
4
1.11
32
59
2900
0.75
1.8
555
20
32QDLF4-50
4
1.11
40
59
2900
1.1
1.8
582
20
32QDLF4-60
4
1.11
48
59
2900
1.1
1.8
609
20
32QDLF4-70
4
1.11
56
59
2900
1.5
1.8
691

25

32QDLF4-80
4
1.11
64
59
2900
1.5
1.8
718

25

32QDLF4-90
4
1.11
72
59
2900
2.2
1.8
745
30
32QDLF4-100
4
1.11
80
59
2900
2.2
1.8
772
30
32QDLF4-110
4
1.11
88
59
2900
2.2
1.8
799
30
32QDLF4-120
4
1.11
96
59
2900
2.2
1.8
826
30
32QDLF4-130
4
1.11
104
59
2900
3
1.8
923
35
32QDLF4-140
4
1.11
112
59
2900
3
1.8
950
35
32QDLF4-150
4
1.11
120
59
2900
3
1.8
977
46.5
32QDLF4-160
4
1.11
128
59
2900
3
1.8
1004
35
32QDLF4-170
4
1.11
136
59
2900
4
1.8
1066
40
32QDLF4-180
4
1.11
144
59
2900
4
1.8
1093
40
32QDLF4-190
4
1.11
152
59
2900
4
1.8
1120
40
32QDLF4-200
4
1.11
160
59
2900
4
1.8
1147
40
32QDLF4-210
4
1.11
168
59
2900
4
1.8
1174
45
32QDLF4-220
4
1.11
176
59
2900
4
1.8
1201
45
40QDLF8-20
8
2.22
18
64
2900
0.75
2.3
595
25
40QDLF8-30
8
2.22
27
64
2900
1.1
2.3
625
30
40QDLF8-40
8
2.22
36
64
2900
1.5
2.3
710
30
40QDLF8-50
8
2.22
45
64
2900
2.2
2.3
740
40
40QDLF8-60
8
2.22
54
64
2900
2.2
2.3
770
40
40QDLF8-70
8
2.22
63
64
2900
3
2.3
870
45
40QDLF8-80
8
2.22
72
64
2900
3
2.3
900
45
40QDLF8-90
8
2.22
81
64
2900
4
2.3
965
55
40QDLF8-100
8
2.22
90
64
2900
4
2.3
995
55
40QDLF8-110
8
2.22
99
64
2900
4
2.3
1025
55
40QDLF8-120
8
2.22
108
64
2900
4
2.3
1055
55
40QDLF8-130
8
2.22
117
64
2900
5.5
2.3
1125
80
40QDLF8-140
8
2.22
126
64
2900
5.5
2.3
1155
80
40QDLF8-150
8
2.22
135
64
2900
5.5
2.3
1185
80
40QDLF8-160
8
2.22
144
64
2900
5.5
2.3
1215
80
40QDLF8-170
8
2.22
153
64
2900
7.5
2.3
1245
86
40QDLF8-180
8
2.22
162
64
2900
7.5
2.3
1275
90
40QDLF8-190
8
2.22
171
64
2900
7.5
2.3
1305
90
40QDLF8-200
8
2.22
180
64
2900
7.5
2.3
1335
95
50QDLF16-20
16
4.44
22
71
2900
2.2
4.2
680
40
50QDLF16-30
16
4.44
34
71
2900
3
4.2
795
50
50QDLF16-40
16
4.44
46
71
2900
4
4.2
875
55
50QDLF16-50
16
4.44
58
71
2900
5.5
4.2
960
70
50QDLF16-60
16
4.44
70
71
2900
5.5
4.2
1005
75
50QDLF16-70
16
4.44
82
71
2900
7.5
4.2
1050
80
50QDLF16-80
16
4.44
94
71
2900
7.5
4.2
1095
80
50QDLF16-90
16
4.44
106
71
2900
11
4.2
1290
140
50QDLF16-100
16
4.44
118
71
2900
11
4.2
1335
140
50QDLF16-110
16
4.44
130
71
2900
11
4.2
1380
145
50QDLF16-120
16
4.44
142
71
2900
11
4.2
1425
145
50QDLF16-130
16
4.44
154
71
2900
15
4.2
1470
165
50QDLF16-140
16
4.44
166
71
2900
15
4.2
1515
165