ZBF-type self-priming plastic magnetic pump
Product Overview
ZBF products comply with JB / T 7742-1995 "small magnetic driveCentrifugal pump"Standard for the countryMagnetic PumpJoint design and optimize the product. Combination of advanced technology, using external mixing structure of the self-priming plastic magnetic pump. The pump to increase polypropylene as the main material, self-priming time is short, long life, is the automatic remote control and mobile transmission leak highly corrosive liquid pumps.

Features
Set in a self-priming, bottom valve and cited without irrigation, self-priming height of 4 meters. The compact pump structure, beautiful appearance, small size, low noise, reliable operation, easy maintenance, temperature -20 ° C to 80 ° C. Flow :5-15m3 / h; head :8-32m; speed 2900r/min

Usage
Can be used in corrosive liquid without solid particles
Strong acid, alkali
Ethanol
Bleach
Camera solution
Nitric acid, hydrochloric acid
Hydrofluoric acid
Acetic acid
Sodium hydroxide
Acetone
4 ethylene oxide
Water, salt, etc.
installation size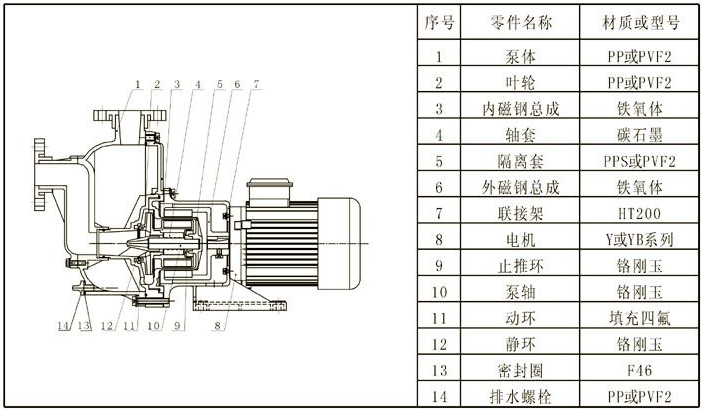 Performance Parameters
Model
Flow
m3/ H
Head
m
Import
mm
Suction
mm
Power
kw
Speed
r / min
Voltage
V
Frequency
Hz
ZBF32-105
6.5
10
32
5
0.75
2900
380/220
50/60
ZBF32-115
6.5
16
32
5
1.1
2900
380/220
50/60
ZBF32-125
6.5
20
32
5
1.5
2900
380/220
50/60
ZBF40-105
10
10
40
5
1.1
2900
380/220
50/60
ZBF40-115
10
16
40
5
1.5
2900
380/220
50/60
ZBF40-125
10
20
40
5
2.2
2900
380/220
50/60
ZBF50-125
12.5
20
50
5
3
2900
380/220
50/60
ZBF50-160
12.5
32
50
5
4
2900
380/220
50/60