Self-priming Chemical Pump
Product Overview
FPZ corrosion-resistant plasticSelf-priming pumpUse of reinforced polypropylene (CFP-PP) one injection molding. High mechanical strength, corrosion resistance, strength, self-priming pump structure has a unique style of science, the pump cavity with absorbent room, liquid storage room, back to liquid check valve, gas-liquid separation chamber, back hole. Just before the first boot cited perfusion fluid after repeated infusion cited without liquid delivery medium in the absorption, the liquid may be intermittent, broken liquid 15 minutes to absorb liquid can continue to send, no need for additional cooling mechanical seal water cooling, simple, safe without leakage, replace theLiquid pumpsThe best product.

Features
Impeller and the axis of integration to eliminate key skid and penetrated into the metal shaft. Direct compact, high efficiency; joint action by two-stage, pump assembly and disassembly. For -10 ℃ ~ 90 ℃, flow of 11-50 m3 / h, head 18-32m, speed 2900r/min

Usage
Applicable to general acid-base salts resistance, chemical, pharmaceutical, food, metallurgy, environmental protection, sewage treatment, mineral and other industries.
installation size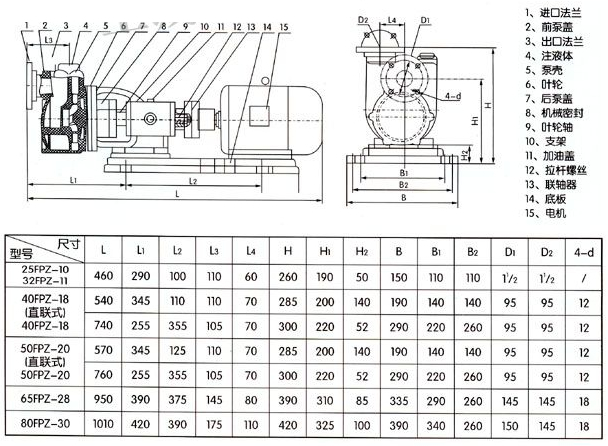 Performance Parameters
Model
× export import
(Mm)
Flow Q
(M3/ H)
Head H
(M)
Speed n
(R / min)
Inhalation of high
(M)
Motor power P
(Kw)
25FPZ-10(D)
25 × 20
2.5
10
2840
5
0.55
32FPZ-11(D)
32 × 25
3.4
11
2840
5
0.75
40FPZ-18
40 × 32
11
18
2840
5
1.5
50FPZ-20
50 × 40
13
20
2840
5
2.2
65FPZ-25
65 × 50
26
25
2840
5
4
80FPZ-32
80 × 65
50
32
2840
5
7.5
100FPZ-40
100 × 80
100
20
2840
5
11