JMZ Stainless Steel Suction Wine Pump and Chemical Pump
Product Overview
I specialized in the production of stainless steel unitSelf-priming pump wine,Self-priming Chemical PumpIs in accordance with the new requirements of users, using the new mechanical seal assembly, installation of explosion-proof, long
Years without leakage, JMZ self-priming pump for conveying liquor (-35 ~ +120 ℃) of all alcohol, beverage, dairy, pharmaceutical, gasoline, solvents, oil, syrup and other industries.
FMZ self-primingChemical PumpFor transport (-35 ~ +120 ℃) of concentrated slurry, acid, alkali, salt and other chemical liquids.

Features
The pump has a compact structure, easy operation, self-priming performance, small size, light weight, stable performance, not the bottom valve, without draining, etc. Starting Point
Point. Is the new generation of products. Market and has broad application prospects. The Performance range: flow 3M3 / h ~ 190M3 / h, head is 22m ~ 60m, a diameter: 25mm ~ 150mm.

Usage
Corrosive liquid without solid particles, acids, alkalis, alcohol, bleach, photography solution, nitric acid, hydrochloric acid, hydrofluoric acid, acetic acid, sodium hydroxide, acetone, 4 ethylene oxide, water, salt and so on.
installation size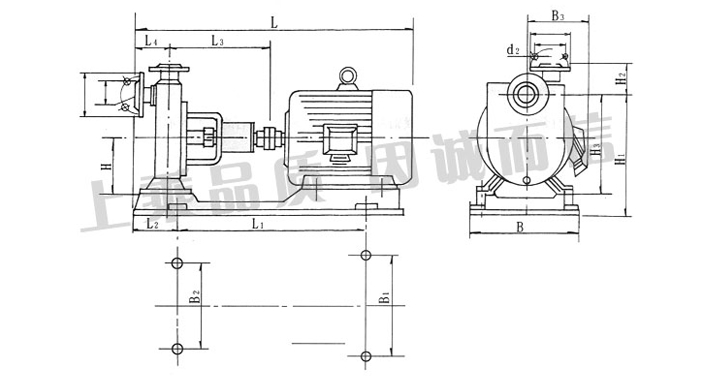 installation size and dimension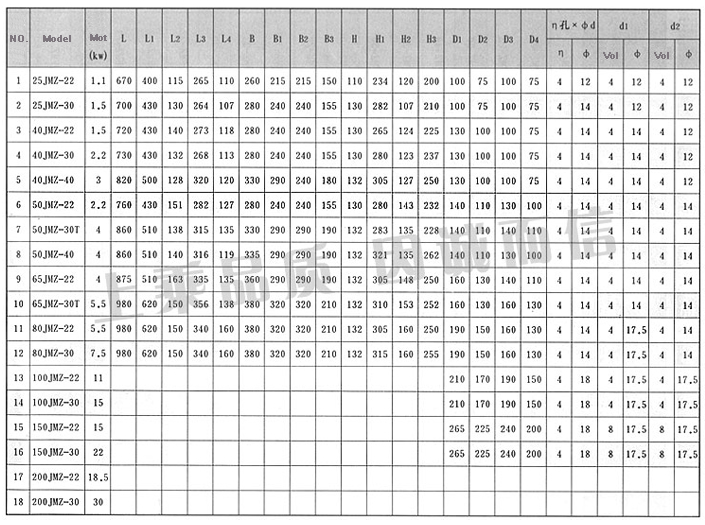 Performance Parameters
Transportation of liquor,
Beverages, steam
Oil, dairy products
Models
Main performance parameters
Acid transport,
Base, thick paste
And high-temperature liquid
Body type
Auxiliary power
(KW)
Import
mm
Export
mm

Flow
m3/ H

Head
m

Suction
m

Speed
r / min
25 JMZ-22
25
25
3
22
5
2900
25 FMZ-22
1.1
25 JMZ-30
25
25
3
30
6
2900
25 FMZ-30
1.5
40 JMZ-22
40
25
6
22
5
2900
40 FMZ-22
1.5
40 JMZ-30
40
25
6
30
6
2900
40 FMZ-30
2.2
40 JMZ-40
40
25
6
40
6
2900
40 FMZ-40
3
50 JMZ-22
50
40
12
22
5
2900
50 FMZ-22
2.2
50 JMZ-30T
50
50
20
30
6
2900
50 FMZ-30T
4
50 JMZ-40
50
40
12
40
6
2900
50 FMZ-40
4
65 JMZ-22
65
50
24
22
5
2900
65 FMZ-22
4
65 JMZ-30T
65
65
30
30
6
2900
65 FMZ-30T
5.5
80 JMZ-22
80
65
48
22
5
2900
80 FMZ-22
5.5
80 JMZ-30
80
65
48
30
5
2900
80 FMZ-30
7.5
100 JMZ-22
100
80
80
22
5
2900
125 FMZ-18
11
100 JMZ-30
100
80
100
30
5
2900
100 FMZ-30
15
150 JMZ-22
150
125
160
22
5
2900
150 FMZ-22
15
150 JMZ-30
150
125
160
30
5
2900
150 FMZ-30
22
200 JMZ-22
200
150
200
22
5
1450
200 FMZ-22
18.5
200 JMZ-30
200
150
200
30
5
1450
200 FMZ-30
30