ISG Single-Stage Single-Suction Centrifugal Pump
Product Overview
ISG series single stage single suction verticalCentrifugal pumpIs our reference to international ISO2858 and national standard performance parameters required JB/T6878.2-93, combined with many years of production experience, the company designed the second generation of energy efficient products is an alternative type SGPipe centrifugal pumps, IS-type centrifugal pump, D-type multi-stage centrifugal pumps ideal for products such as conventional

Features
Pump for the vertical structure of import and export of the same caliber, and at the same center line, can be asValveAs being installed in the pipeline, compact appearance, small size, construction investment is low, such as with the shield may be placed for outdoor use. Impeller directly mounted on extended motor shaft, short axial dimensions, pump and motor bearing configuration is reasonable, can effectively balance the pump operation produces radial and axial load, thus ensuring the smooth operation of the pump, low noise vibration . Installation and maintenance, instant noodles, do not open pipeline system, as long as the discharge pump union nut can seat all the rotor components out. Can use the requirements of flow and head of the need to adopt pumps in series and parallel operation mode. Piping arrangement according to the requirements of vertical and horizontal with the pump installation. Series flow range 1.5 ~ 1600m3 / h, head range 5 ~ 125m, basic type, shunt type, cutting type and other specifications

Usage
ISG vertical pipeline centrifugal pump, for carrying water and the physical and chemical properties similar to water, other liquids used for industrial and urban water supply and drainage, high-rise building pressurized water supply, garden irrigation, fire booster, long-distance transportation, HVAC refrigeration cycle, cold and warm water circulation booster and Equipment, temperature <80 ℃.
installation size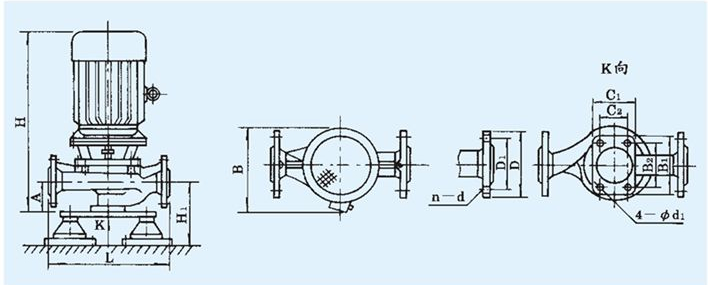 installation size and dimension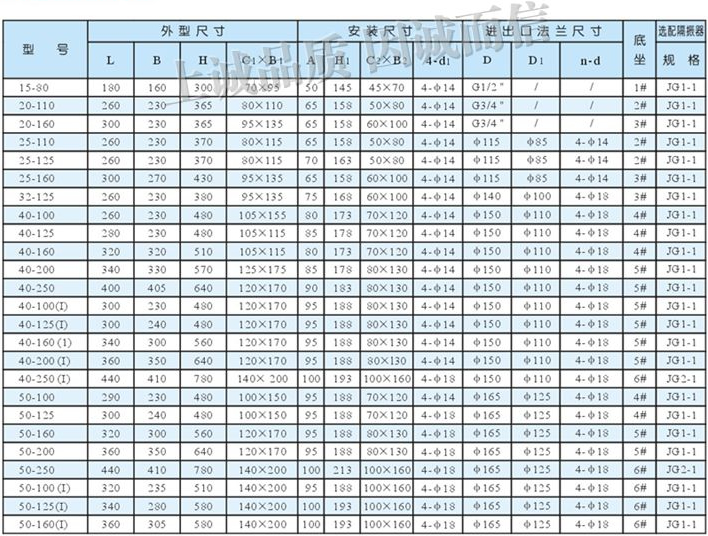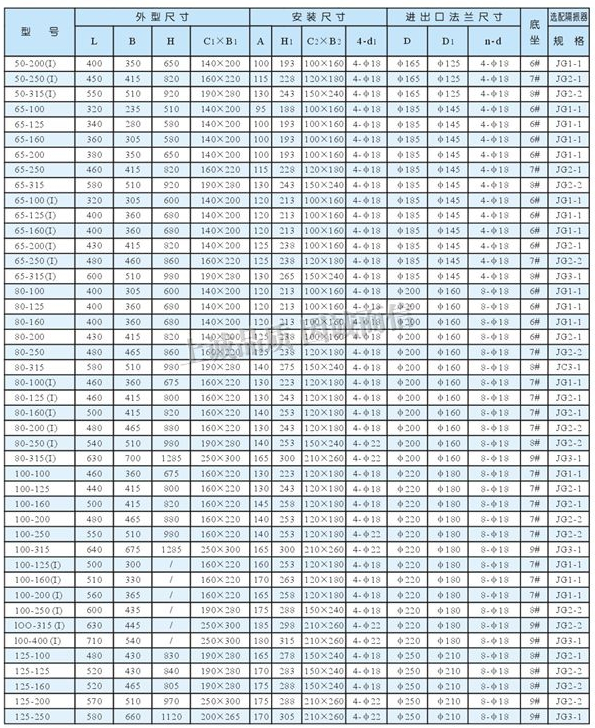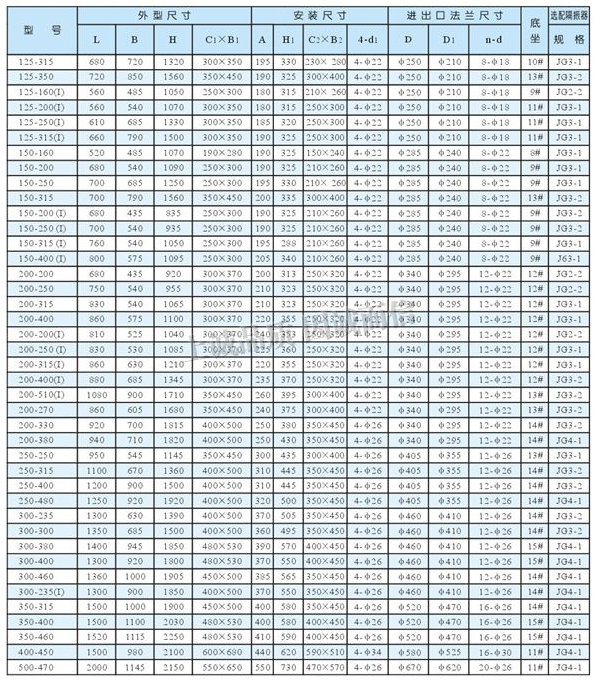 Performance Parameters
ISG series single stage single suction centrifugal pumps Road
Model
Flow Q
Head
m
Efficiency
%
Speed
r / min
Motor Power
KW
Allow NPSH
m
m3/ H
l / s
15-80
1.5
0.42
8
34
2800
0.18
2.3
20-110
2.5
0.69
15
34
2800
0.37
2.3
20-160
2.5
0.69
32
25
2900
0.75
2.3
25-110
4
1.11
15
42
2900
0.55
2.3
25-125
4
1.11
20
36
2900
0.75
2.3
25-125A
3.6
1.0
16
35
2900
0.55
2.3
25-160
4
1.11
32
32
2900
1.5
2.3
25-160A
3.7
1.03
28
31
2900
1.1
2.3
32-100
4.5
12.5
12.5
44
2900
0.55
2.3
32-100 (I)
6.3
1.75
12.5
54
2900
0.75
2.3
32-125
5
1.39
20
44
2900
0.75
2.3
32-125A
4.5
1.25
16
43
2900
0.55
2.3
32-160
6.5
5
32
44
2900
1.5
2.3
32-160A
4
1.1
25
34
2900
1.1
2.0
32-160 (I)
6.3
1.75
32
40
2900
2.2
2.0
32-200
4.5
12.5
50
32
2900
3
2.0
32-200 (I)
6.3
1.75
50
33
2900
4
2.0
32-200A
4
1.11
44
40
2900
2.2
2.0
40-100
6.3
1.75
12.5
54
2900
0.55
2.3
40100A
5.6
1.56
10
52
2900
0.37
2.3
40-125
6.3
1.75
20
46
2900
1.1
2.3
40-125A
5.6
1.56
16
45
2900
0.75
2.3
40-160
6.3
1.75
32
40
2900
2.2
2.3
40-160A
5.9
1.64
28
39
2900
1.5
2.3
40-160B
5.5
1.53
24
38
2900
1.1
2.3
40-200
6.3
1.75
50
33
2900
4
2.3
40-200A
5.9
1.64
44
31
2900
3
2.3
40-200B
5.3
1.47
36
29
2900
2.2
2.3
40-250
6.3
1.75
80
28
2900
7.5
2.3
40-250A
5.9
1.64
70
28
2900
5.5
2.3
40-250B
5.5
1.53
60
27
2900
4
2.3
40-100 (I)
12.5
3.47
12.5
62
2900
1.1
2.3
40-100 (I) A
11
3.05
10
60
2900
0.75
2.3
40-125 (I)
12.5
3.47
20
58
2900
1.5
2.3
40-125 (I) A
11
3.05
16
57
2900
1.1
2.3
40-160 (I)
12.5
3.47
32
52
2900
3
2.3
40-160 (I) A
11.7
3.25
28
51
2900
2.2
2.3
40-160 (I) B
10.4
2.89
22
50
2900
1.5
2.3
40-200 (I)
12.5
3.47
50
46
2900
5.5
2.3
40-200 (I) A
11.7
3.25
44
45
2900
4
2.3
40-200 (I) B
10.6
2.94
36
44
2900
3
2.3
40-250 (I)
12.5
3.47
80
38
2900
11
2.3
40-250 (I) A
11.6
3.22
70
38
2900
7.5
2.3
40-250 (I) B
10.8
3.0
60
37
2900
7.5
2.3
40-250 (I) C
10.0
2.78
52
36
2900
5.5
2.3
50-100
12.5
3.47
12.5
62
2900
1.1
2.3
50-100A
11
3.05
10
60
2900
0.75
2.3
50-125
12.5
3.47
20
58
2900
1.5
2.3
Model
Flow Q
Head
m
Efficiency
%
Speed
r / min
Motor Power
KW
Allow NPSH
m
m3/ H
l / s
50-125A
11
3.05
16
57
2900
1.1
2.3
50-160
12.5
3.47
32
52
2900
3
2.3
50-160A
11.7
3.25
28
51
2900
2.2
2.3
50-160B
10.4
2.89
22
50
2900
1.5
2.3
50-200
12.5
3.47
50
46
2900
5.5
2.3
50-200A
11.7
3.25
44
45
2900
4
2.3
50-200B
10.6
2.94
36
44
2900
3
2.3
50-250
12.5
3.47
80
38
2900
11
2.3
50-250A
11.6
3.22
70
38
2900
7.5
2.3
50-250B
10.8
3.0
60
37
2900
7.5
2.3
50-250C
10.0
2.78
52
36
2900
5.5
2.3
50-100 (I)
25
6.94
12.5
69
2900
1.5
2.5
50-100 (I) A
22.3
6.19
10
67
2900
1.1
2.5
50-125 (I)
25
6.94
20
68
2900
3
2.5
50-125 (I) A
22.3
6.19
16
66
2900
2.2
2.5
50-160 (I)
25
6.94
32
63
2900
4
2.5
50-160 (I) A
23.4
6.5
28
62
2900
4
2.5
50-160 (I) B
21.6
6.0
24
58
2900
3
2.5
50-200 (I)
25
6.94
50
58
2900
7.5
2.5
50-200 (I) A
23.5
6.53
44
57
2900
7.5
2.5
50-200 (I) B
21.8
6.06
38
55
2900
5.5
2.5
50-250 (I)
25
6.94
80
50
2900
15
2.5
50-250 (I) A
23.4
6.5
70
50
2900
11
2.5
50-250 (I) B
21.6
6.0
60
49
2900
11
2.5
50-315 (I)
25
6.94
125
40
2900
30
2.5
50-315 (I) A
23.7
6.58
113
40
2900
22
2.5
50-315 (I) B
22.5
6.25
101
39
2900
18.5
2.5
50-315 (I) C
20.6
5.72
85
38
2900
15
2.5
65-100
25
6.94
12.5
69
2900
1.5
2.5
65-100A
22.3
6.19
10
67
2900
1.1
2.5
65-125
25
6.94
20
68
2900
3
2.5
65-125A
22.3
6.19
16
66
2900
2.2
2.5
65-160
25
6.94
32
63
2900
4
2.5
65-160A
23.4
6.5
28
62
2900
4
2.5
65-160B
21.6
6.0
24
58
2900
3
2.5
65-200
25
6.94
50
58
2900
7.5
2.5
65-200A
23.5
6.53
44
57
2900
7.5
2.5
65-200B
21.8
6.06
38
55
2900
5.5
2.5
65-250
25
6.94
80
50
2900
15
2.5
65-250A
23.4
6.5
70
50
2900
11
2.5
65-250B
21.6
6.0
60
49
2900
11
2.5
65-315
25
6.94
125
40
2900
30
2.5
65-315A
23.7
6.58
113
40
2900
22
2.5
65-315B
22.5
6.25
101
39
2900
18.5
2.5
65-315C
20.6
5.72
85
38
2900
15
2.5
65-100 (I)
50
13.9
12.5
73
2900
3
3.0
65-100 (I) A
44.7
12.4
10
72
2900
2.2
3.0
65-125 (I)
50
13.9
20
72.5
2900
5.5
3.0
Model
Flow Q
Head
m
Efficiency
%
Speed
r / min
Motor Power
KW
Allow NPSH
m
m3/ H
l / s
65-125 (I) A
45
12.5
16
71
2900
4
3.0
65-160 (I)
50
13.9
32
71
2900
7.5
3.0
65-160 (I) A
46.7
13.0
28
70
2900
7.5
3.0
65-160 (I) B
43.3
12.0
24
69
2900
5.5
3.0
65-200 (I)
50
13.9
50
67
2900
15
3.0
65-200 (I) A
47
13.1
44
66
2900
11
3.0
65-200 (I) B
43.5
12.1
38
65
2900
7.5
3.0
65-250 (I)
50
13.9
80
59
2900
22
3.0
65-250 (I) A
46.7
13.0
70
59
2900
18.5
3.0
65-250 (I) B
43.3
12.0
60
58
2900
15
3.0
65-315 (I)
50
13.9
125
54
2900
37
3.0
65-315 (I) A
46.5
12.9
110
54
2900
30
3.0
65-315 (I) B
44.5
12.4
100
53
2900
30
3.0
65-315 (I) C
41
11.4
85
51
2900
22
3.0
80-100
50
13.9
12.5
73
2900
3
3.0
80-100A
44.7
12.5
10
72
2900
2.2
3.0
80-125
50
13.9
20
72.5
2900
5.5
3.0
80-125A
45
12.5
16
71
2900
4
3.0
80-160
50
13.9
32
71
2900
7.5
3.0
80-160A
46.7
13.0
28
70
2900
7.5
3.0
80-160B
43.3
12.0
24
69
2900
5.5
3.0
80-200
50
13.9
50
67
2900
15
3.0
80-200A
47
13.1
44
66
2900
11
3.0
80-200B
43.5
12.1
38
65
2900
7.5
3.0
80-250
50
13.9
80
59
2900
22
3.0
80-250A
46.7
13.0
70
59
2900
18.5
3.0
80-250B
43.3
12.0
60
58
2900
15
3.0
80-315
50
13.9
125
54
2900
37
3.0
80-315A
46.5
12.9
110
54
2900
30
3.0
80-315B
44.5
12.4
100
53
2900
30
3.0
80-315C
41
11.4
85
51
2900
22
3.0
80-350
50
13.9
150
66
2900
55
3.0
80-350A
44.5
12.4
142
65
2900
45
3.0
80-350B
41
11.4
135
62
2900
37
3.0
80-100 (I)
100
27.8
12.5
76
2900
5.5
4.5
80-100 (I) A
89
24.7
10
74
2900
4
4.5
80-125 (I)
100
27.8
20
76
2900
11
4.5
80-125 (I) A
89
24.7
16
74
2900
7.5
4.5
80-160 (I)
100
27.8
32
76
2900
15
4.5
80-160 (I) A
93.5
26.0
28
74
2900
11
4.5
80-160 (I) B
86.6
24.1
24
72
2900
11
4.5
80-200 (I)
100
27.8
50
74
2900
2
4.5
80-200 (I) A
93.5
26.0
44
73
2900
18.5
4.5
80-200 (I) B
87
24.2
38
71
2900
15
4.5
80-250 (I)
100
27.8
80
69
2900
37
4.5
80-250 (I) A
93.5
26.0
70
68
2900
30
4.5
80-250 (I) B
87
24.2
60
66
2900
30
4.5
80-315 (I)
100
27.8
125
66
2900
75
4.5
Model
Flow Q
Head
m
Efficiency
%
Speed
r / min
Motor Power
KW
Allow NPSH
m
m3/ H
l / s
80-315 (I) A
95
2.64
113
66
2900
55
4.0
80-315 (I) B
90
25
101
65
2900
45
4.0
80-315 (I) C
82
22.8
85
63
2900
37
4.0
100-100
100
27.8
12.5
76
2900
5.5
4.5
100-100A
89
47
10
74
2900
4
4.5
100-125
100
27.8
20
76
2900
11
4.5
100-125A
89
24.7
16
74
2900
7.5
4.5
100-160
100
27.8
32
76
2900
15
4.5
100-160A
93.5
26.0
28
74
2900
11
4.5
100-160B
86.6
24.1
24
72
2900
11
4.5
100-200
100
27.8
50
74
2900
22
4.0
100-200A
93.5
26.0
44
73
2900
18.5
4.0
100-200B
87
24.2
38
71
2900
15
4.0
100-250
100
27.8
80
69
2900
37
4.0
100-250A
93.5
26.0
70
68
2900
30
4.0
100-250B
87
24.2
60
66
2900
30
4.0
100-315
100
27.8
125
66
2900
75
4.0
100-315A
95
2.64
113
66
2900
55
4.0
100-315B
90
25
101
65
2900
45
4.0
100-315C
82
22.8
85
63
2900
37
4.0
100-100 (I)
160
44.4
12.5
73
2900
11
4.5
100-125 (I)
160
44.4
20
74
2900
15
4.5
100-125 (I) A
140
39
17
72
2900
11
4.5
100-160 (I)
160
44.4
32
32
2900
22
5.6
100-160 (I) A
140
39
28
28
2900
18.5
5.0
100-200 (I)
100
44.4
50
50
2900
37
5.2
100-200 (I) A
140
39
45
45
2900
30
4.5
100-200 (I) B
100
27.8
40
40
2900
22
4.5
100-250 (I)
160
44.4
80
80
2900
55
4.8
100-250 (I) A
140
39
72
72
2900
45
4.5
100-250 (I) B
100
27.8
65
65
2900
37
4.5
100-350
100
27.8
150
150
2900
90
4.0
100-350A
87
24.2
142
142
2900
75
4.0
100-350B
82
22.8
135
135
2900
55
4.0
125-100
160
44.4
12.5
12.5
2900
11
4.0
125-100A
143
39.7
10
10
2900
7.5
4.0
125-125
160
44.4
20
20
2900
15
4.0
125-125A
143
39.7
16
16
2900
11
4.0
125-160
160
44.4
32
32
2900
22
4.0
125-160A
150
41.7
28
28
2900
18.5
4.0
125-160B
138
38.3
24
24
2900
15
4.0
125-200
160
44.4
50
50
2900
37
5.5
125-200A
150
41.7
44
44
2900
30
5.5
125-200B
138
38.3
37.5
37.5
2900
22
5.5
125-250
160
44.4
80
80
2900
55
5.0
125-250A
150
41.7
70
70
2900
45
5.5