Submersible sewage pump
Submersible sewage pump is a pump and motor piece, and also sneak into the work of the Water Pumps liquid products, and generally horizontal or vertical sewage pump than the pump, submersible sewage pump with obvious advantages of the following aspects: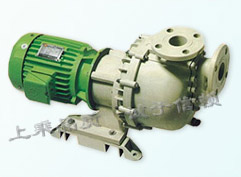 1. Compact, small footprint. Submersible sewage pump sneak into the fluid due to work, it can be directly installed in the sewage pool, without the construction of a special pump is used to install pumps and machines, you can save a lot of land and infrastructure costs.

2. Installation and maintenance. Small submersible sewage pump free installation, large submersible sewage pumps are generally equipped with automatic coupling device can be automatically installed, the installation and maintenance very convenient.

3. Continuous operation for a long time. Submersible sewage pump because the pump and motor axis, short axis, rotating parts, light weight, so the pressure on the load radial bearing is relatively small, life is much longer than the average pump.

4. There is no cavitation and irrigation water and other issues. The latter point in particular to the operating personnel has brought great convenience.

5. Vibration noise, low temperature rise, the environmental pollution.

It is because of these advantages, submersible sewage pumps are more and more attention has been paid, the use of the range more widely, from the simply used to transport water to the present can transport all kinds of domestic sewage, industrial waste, construction site drainage, liquid feed, and so on.

Municipal engineering, industrial, hospital, construction, hotels, water conservancy construction and other industries play an important role.

But everything is divided into two, for the Magnetic Pumps is the most critical issue is the reliability problem, because the use of submersible sewage pump is submerged occasions; transmission medium is a mixture of some of the liquid containing solid materials; the close proximity of the pump and motor; pump for the vertical layout, with the impeller rotating parts under the weight of water pressure in the same direction. These problems are made in a sealed submersible sewage pump, electrical load capacity, bearing arrangement and selection of other requirements of the Multi-Stages Pumps than the average higher.


author :
Water Pumps
Published 3/29/2011 10:16:00 AM
Article keywords : Submersible sewage pump
Related Articles :
Tips for finding the best and present you with custom Magnetic Pump
The Global Regulation of Sewage Pump!
The evolution of the vacuum pump
How to Buy Sump Pumps
Different Types of Pumps
What is a Water Pump?
Is used to pump fluid by suitable displacement
Metering pumps, chemical pumps, external gear pumps
Creative engineers: chemical pumps, process pumps, flow meters,pumps in stainless steel,sewage pumps
Tips for finding the best and present you with custom Magnetic Pump