CQ type engineering plastic magnetic drive pumps
what's the Magnetic Pumps
The magnetic pump usually had ascending liquid,conveying liquid or increasing the pressure of liquid,the pump can changing the mechanical energy of prime mover to liquid energy ,so as to achieve the purpose of pumping the liquid.so it was named pump.the pump is a machinery which is conveying liquids or causing the liquid turbo-charged.it transmits the motive of mechanical or other external energy that transmitted to the liquid.
CQ type engineering plastic magnetic drive pumps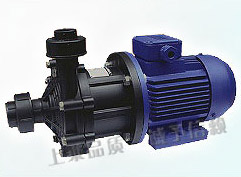 the function of magnetic pumps
the pump consists of pump,magnetic cluth and motor,the key components of magnetic pumps have contained magnetic transmission device from outside to inside,magnetic rotor magnetic and non-conducting isolate device,when the motor driving outside magnetic spinning, the magnetic field that can penetrate into the air gap and the non-magnetic material,which driving the impeller,because of pump shaft,inner magnetic rotor is pump body. the type of Magnetic Pumps can divided into brush dc pump,brushless dc motor
pump,exchange miniature pump.
author :
Water Pumps
Published 12/29/2010 4:43:00 PM
Article keywords : CQ type engineering plastic magnetic drive pumps
Related Articles :
MP series plastic magnetic pump
CQB heavy (high temperature) magnetic drive pump
ZCQ-type self-priming magnetic drive pump
ZCQ-type self-priming magnetic drive pump
ZX series self-priming pump
ZCQ-type self-priming magnetic drive pump
Magnetic pipeline pump
ZBF-type self-priming plastic magnetic pump
CQ type engineering plastic magnetic drive pumps
CQB-G high-temperature heat pump